Arizona Estate and Trust Planning | Chandler Mesa AZ
---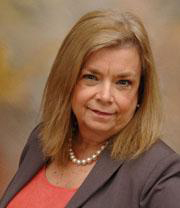 Dorothy Brogan, J.D.
Attorney
Dorothy Brogan, a native New Yorker, concentrates her practice in the field of estate planning and probate matters. She has been practicing law in Arizona for the past 16 years and Dorothy likes to focus her attention on each client's particular issues in order to meet their needs. Her warm manner and calm presence help to put everyone at ease during the planning process. Dorothy has been working with JC Grason clients for the past year and enjoys meeting and assisting them. In her spare time, she enjoys spending time with her husband and three grown daughters, as well as reading and traveling.
Qualifications and Experience
Dorothy received her Bachelor of Arts degree from Hunter College in New York City. She taught school for several years and received a Master of Science degree in Counseling from the City University of New York. From there, Dorothy went on to get her Juris Doctor degree from St. John's University in New York. She is licensed to practice law in New York, as well as Arizona. Dorothy is a member of the Maricopa County Bar Association and currently serves on the Board of Directors for the Maricopa County Association of Family Mediators.