Phoenix AZ Financial Advisor Arizona Financial Planner
---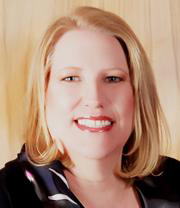 Teresa Bear, CPA, CFP®
e: teresa@teresabear.com
p: 480.503.0050
Teresa Bear specializes in retirement planning and asset preservation for retirees and their loved ones. Teresa has been seen in USA Today and is the author of the new book, She Retired Happily Ever After.
In her book, Teresa uses stories such as Jack in the Beanstalk, The Emperor's New Clothes and Cinderella to simplify complicated financial concepts. For instance, in Cinderella, remember how the Fairy Godmother helped her pursue her dreams? Teresa does the same for her clients. Many retirees have the type of financial plan that contains a jumbled mix of CDs, stocks, bonds, mutual funds, and annuities. Teresa strives to transform these assets into beautiful financial plans that perfectly fit each client's individual needs, whether those needs include ensuring lifetime income, protecting against unnecessary taxation, insuring against disability, or creating a legacy (either for family members or a beloved charity). She specializes in creating the best plan to meet each client's fondest dreams. However, unlike the transformations in Cinderella, Teresa's plans aren't magic and don't expire at the stroke of midnight. Instead, they are in place as permanent foundations for financial protection, providing freedom from worry.
Teresa lives in Tempe, Arizona with her husband and son. Teresa searched for a handsome prince for many years; she was about to give up when she met Desert Little Bear, a Native American artist and a member of the Pasqua Yaqui tribe. His artwork is unique: he specializes in creating rock art (petroglyphs) using Arizonan natural stone. Desert's artistic genes have been passed on to his and Teresa's only son, James, who created the amazing illustrations for her book. Teresa enjoys sewing and scrapbooking and spending time with her family. Outside of work, she is very involved with her church in planning worship services and serving as a counselor to the pastor.
Qualifications & Experience
Teresa, a graduate of Iowa's Graceland University, has an MBA from the University of Kansas. She is a Certified Public Accountant who has been practicing in the area of taxation for over twenty-five years. Additionally, she is a Certified Financial Planner™ who combines her knowledge of taxes with her expertise in investments.
Teresa's Core Story
Career and life aspirations spawned from the struggles of one's formative years often have the greatest influence on the future.

Stories regarding entry into the financial and tax industries are typically mundane and straightforward.  That is, however, most certainly not the case with CPA/CFP™ Teresa Bear.  She knows, firsthand, the trauma related to failed get-rich-quick schemes and unwise investments.

Though Bear's father never put a quarter in a slot machine, he most certainly was a gambler with risky investments, which always fell short.  With two working professionals in the home, Bear should have enjoyed a stable, middle-class existence, but volatility was the anticipated norm.

"Christmas after Christmas, dad would routinely gather us all around to tell us it was going to be another lean year.  My mother wanted to be a stay-at-home mom, but she often had to go to work to bail out dad's investment losses," she sadly states.

Infused by this lack of magic at holiday time, Bear's career path has taken her to a place, where she strive to make sure there will always be a plethora of Christmas presents under the tree for other families.

Bear is certainly not suggesting that her father was a poor provider, but these early experiences instilled in her a desire to guide others toward fiscal health and security.  She has been doing just that for close to three decades.  Bear has her Bachelor of Arts degree from Graceland University in Iowa and her MBA from the University of Kansas.  A true triple threat, Bear is an Investment Advisor Representative, a Certified Public Accountant and Certified Financial PlannerTM.

She brings all of these invaluable skills to good use as the owner of JC Grason of Mesa.  Initially hired as JC Grason's controller, the founders quite astutely understood the value of Bear's prior experience.  "At the time, JC Grason had six offices and the founders approached me in 2008 and presented the opportunity to purchase the Mesa location," she says.

Ever the optimist looking for a new challenge, Bear took a leap of faith, which has worked out beautifully for all involved, especially clients. More recently, she has expanded her financial practice to a second location in Chandler.

Bear developed a hankering for financial planning while working for a large homebuilder with responsibilities of 401(k) management.  From there, she moved to the brokerage industry, but  was frustrated by the inability to use her tax experience and other skills in developing comprehensive financial plans for her clients.   JC Grason's mantra is safety, and Bear is passionate about helping people avoid the "wacky" schemes and ill-conceived plans that always lead to the same place - trouble. Drawing on her diverse experience, Bear is in a position to see what is often missed by most.

"I can look at a tax return and see opportunities that many other advisers simply cannot see," she says.  "I know the tax consequences of investments and as a CPA, I ask the following question countless times: 'By the way, did your adviser tell you that you now owe $10,000 in taxes because of this investment?'"

Sadly, the answer is more frequently no than yes.  The key to having a strong fiscal house is the ability to foresee the implications of each transaction, because what is good for one area is often disastrous to another.  At JC Grason, clients receive a comprehensive evaluation incorporating legal, tax, and investment issues - all of which must be in harmony.  If there is a potential negative tax implication with an investment, Bear seeks way of offsetting or minimizing the dent.

"You have to know the implications of every decision and how these factors affect the whole.  After all, it really is less about what you make and more about what you keep," she stresses.

With a mission to help her clients keep their hard-earned money, Bear is less concerned with hitting a home run and far more concerned with safe-money vehicles.  The first step of the process is making sure the clients have enough money to sustain them for their lifetimes.  Bear is not selling 'products,' but is instead putting clients through an entire review process, where no fiscal stone is left unturned.  Ensuring loved ones are taken care of is a top priority for Bear's clients, so the process must begin with securing the clients' finances.  Bear draws an astute analogy between her approach and safety instructions given before taking off in an airplane.

"The flight attendant tells you that in the event of decreased cabin pressure, you must put your oxygen mask on first before attending to loved ones.  Fiscal planning involves the same approach. It is quite difficult to build one's legacy and leave money behind if there is none left," she says.

If a client outlives funds, everything else goes out the window.  With such volatility lately, the key today (as always) is managing risk and being able to weather the storm during inclement periods.  Granted, clients may not see massive gains during these cycles, but in such volatile times, not losing may actually be winning.  Avoiding large losses is something Bear strives for, and her clients rejoice in knowing their money is safe.

With a super creative mind and a simple, yet fun approach to reach the masses, authorship is most certainly in Bear's repertoire.  She recently completed a book, 'She Retired Happily Ever After,' which took a unique approach by using storytelling to bring the message home for anyone reading it.  It is an uncommon approach that combines entertainment with finance.

"Each chapter begins with a little story or a reference from Harry Potter, Aesop's Fables and Cinderella - to name a few," she adds.  "It is very accessible and approachable, and there is no investment book out there like this one."

Imagine a book that a teen girl could understand and read alongside her professional mother. Ground-breaking is the best way to describe such an idea.  It is also a bit of a family affair.  Bear's 16-year-old son James did 27 illustrations for the book, an impressive feat for an artist of any age.  

For example, in one chapter of the book, Teresa reminisces about an old fashioned dime store with dozens of penny candy jars presenting innumerable, seemingly appealing options.  "Sometimes retirees feel just like that child in the candy store," she says.  "There is a dizzying array of choices and investment options, but sometimes, just like the child, the choice doesn't turn out like you hoped."

When a child selects a disagreeable piece of candy, the impact is individual and fades rather rapidly.  If a retiree chooses the wrong investment candy, the entire family pays for the rotten selection over the next few decades.

"Goals at different life phases certainly vary, but the long term goal is fairly sustainable. We look at taxes, investments, legacy building, and risk management to ensure both short and long term goals are met," she boldly adds.

Teresa also entertains web visitors with her creative blog sites – Teresa Bear Blog, and Flat Teresa's Travels - which features her globetrotting alter ego – Flat Teresa.  Entertaining educational videos are found on her You Tube Channel.